How to get confidence and overcome performance nerves
How did Laura Robson win against Marina Erakovic on Saturday 29th June 2013?
Discover what it takes to be a winner and achieve your goals when the chips are down and your confidence is at its lowest ebb – whether your playing tennis, speaking in front of a group, making a presentation or in any other situation when your nerves have got the better of you.
Get some tips about what the pros do in this 9 minute video.
It was my great delight to create it for you.
Are You Really Lacking in Confidence?
Many people believe that they are lacking in confidence – in fact its not confidence they lack but the ability to connect with their confidence.
So how do you connect to that confidence when the chips are down?
Learn how to connect with the powerful self confidence that lives within you – and improve your chance of success as Laura Robson did – in those moments when that vital confidence eludes you.
I'm rooting for you all the way.
© Claire Schrader 2013
---
If this VIDEO has spoken to you, and has enabled you to connect to your inner confidence – so you can start being the real "you". If you have any questions, or there's something you'd like to share please do leave a comment (scroll down). I love to hear from you.
---
I offer a wide range of Confidence Building Courses aimed at beginners for different levels and abilities in London.
I usually suggest the Breakthrough Confidence Course or Express Yourself Workshop as a good first step or The Finding Your Voice – Speaking with Confidence Course if speaking in front of groups is a priority.
How to get started
Check out my How to Get Started Guide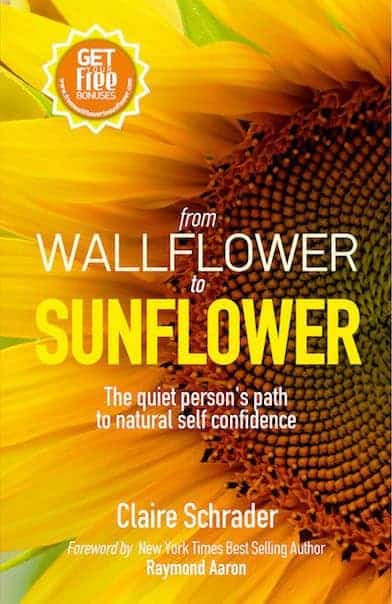 or subscribe to the Making Moves newsletter to receive 3 free chapters from my book: From Wallflower to Sunflower. (£14.99)
In these chapters you'll discover:
Why you're not alone, and why more people are identifying themselves as wallflowers
The biggest mistake that wallflowers make when they're trying to build confidence.
Discover the magic power to break old habits and create new patterns of confident behaviour you've had the whole time – but you didn't know it.
You'll also receive regular free resources, tips and support for your journey to greater confidence, as well as information about my highly effective confidence courses.
Subscribe now to receive your free chapters emailed straight to your inbox, and join a community of people like you, who are ready to change their lives.
You can unsubscribe at any time and I never pass on your details to third parties or spam you. Read my privacy policy and GDPR policy.