I held my first ever Facebook Live on Wednesday 5th December 1.15-1.45pm GMT.
And I was pretty nervous…. this was a new challenge. I was surprised how much I enjoyed it. I felt the kind of aliveness I used to feel when I used to "tread the boards"  – its an acting expression meaning "going on stage".
You can now see it on my Facebook Page
There actually are two of them – a 25 minute one which talks in general about Surviving the Christmas Office Party – but good to listen to about any other kind of party, networking event, or social gathering.
The second one – a PS when Facebook logged me out… is about 5 minutes – in which I talk about Being Alone at Christmas.
This is what I talked about:
The Christmas Party season is coming up. And this can be a painful experience for quiet, shy, introverted and/or socially anxious people.
Do you dread the office Christmas Party and having to make small talk with people you hardly know, or don't know quite what to say to? Do you detest all the false jollity and ra–ra putting you in a uncomfortable situation with your work colleagues?
Or, maybe it's the thought of spending time with family or being alone.
Or, maybe you just hate all the fuss and commercialism around Christmas.
Or, maybe you have some great tips yourself that you'd like to share with others!
In the talk I give you a few things to think about and we'll be doing an exercise or two which I hope will enable you to survive the Christmas season this year with a  bit more confidence and peace of mind.
GETTING REMINDERS
To be sure of getting a reminder of this and any another Facebook Live I'll be doing- I'm planning to do them more regularly  – the next one is called  Shyness – the way out. It's a good idea to Like or Follow my page so you hear anbout them. And then tick "See first" which will reset the default facebook algorithm.
CHECK OUT THE DAILY DOSE OF INSPIRATION
Also when you're there check out my Daily Dose if Inspiration – Designed for quiet, shy and introverted people.
Every day at 10am we post an inspiring image and message to keep you on track with making changes to your confidence levels. You can see the wide range of  posts we have been putting out over the last year.
---
I'd love to see you there!
Claire Schrader
© Claire Schrader November 2018
---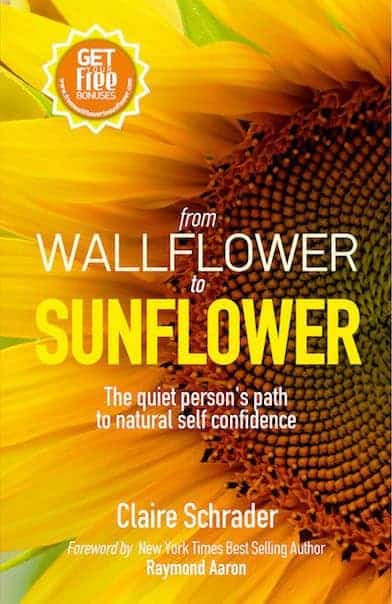 Want to be more of the real you?
Join one of my upcoming confidence courses to enable you to move from the sidelines to expressing yourself authentically.
Read my New Book: From Wallflower to Sunflower – the quiet person's path to natural self confidence
It's your turn to shine!
Not yet receiving my newsletter. Subscribe now and receive articles like this one along with details of events I'm offering delivered to your inbox.