The Power of Self-Acceptance
A participant speaks about her experience of participating in Making Moves courses over 20 years and how she learned self-acceptance. This video was filmed at the book launch of From Wallflower to Sunflower.
She first attended in 1996 to the very first 6 session group I ran. This is her account of the discoveries she made during that time and the difference it made to her.
Since then he has participated in numerous courses, groups and workshop over the years including training as a Making Moves practitioner.
She speaks of how my courses "brought her back to life".
Her participation was an important part of the development of the Sunflower Effect, particularly in the early days. This was when I was learning about the effect that this drama approach was having on participants – and what was working best. She was almost always there. It has been a great pleasure to watch her transform and grow over 20 years of knowing her.
My gratitude to her for her moving words about her experiences and her willingness to share her experiences with you.
She now regularly performs in different performance groups in London.
© Claire Schrader 2018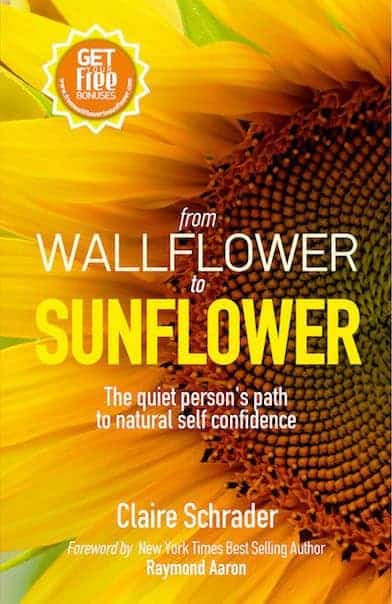 From Wallflower to Sunflower tells my story of how I moved from wallflower to confident person in a relatively short amount of time.
It is highly practical, grounded in psychology and scientific research. The book offers a step-by-step guide with proven strategies, practical tips, exercises and free online resources.
My courses have helped hundreds of introverted people acquire the skills that many extroverts naturally have. This is the power of the Sunflower Effect – the confidence-building system I have developed. As a result, they have been able to make radical changes in their lives and have improved their prospects.
Reading the book will enable you to get more out of my courses because you will understand more about how the Sunflower Effect works.
You will also be able to download the free bonuses to support you on your journey through the course and afterwards.
The book has been highly praised and received 5 star reviews on Amazon. You can unsubscribe anytime.
---
Another way to get started is to sign up for my newsletter and download three free Chapters from the book.
This is a very good way to get a taste of what to expect when you buy the full book. It will also give you more understanding of why you are in your shell and what it will take to get you out of it.
Many of my clients read these Chapters first before booking onto any of my courses.
You will also receive news of when the next courses are being offered so you don't miss anything. You can unsubscribe anytime you wish.