At the book launch of "From Wallflower to Sunflower" I spoke about my motivation for writing the book, in relation to being an introvert in a world that's set up for extroverts to succeed.
---
If you're an introvert, or have a strong introverted side, do you feel pressurised to be different from the way you are?
You don't seem to quite fit in with the way the world is.
"Introverts are most commonly not recognised for their gifts and talents or seen for who they REALLY are."
They may fail to get short listed or headhunted for jobs they are eminently suited for. They may be brilliant on paper but find it difficult to communicate this brilliance verbally or when under pressure.
And if you are not sure if you are an introvert do "The Gifted Introvert Test" and see if you qualify.
If this is your story you may concluded that you're not confident enough, that you need to get much better at XYZ, or you've resigned yourself to the fact that people like you just can't seem to break through the glass ceiling no matter how good you get.
And yet as a group introverts are more likely to have exceptional intelligence. According to some research 75% of people with an IQ above 160 are introverts.
In other words some of the world's most brilliant people are introverts. They excel in design, sciences, engineering and computer sciences. They make wonderful therapists, healers, writers, and intuitives.
It seems grossly unfair that introverts are as a group mostly languishing on the sidelines, that their gifts and talents are not being seen or valued by the people who most matter and they are not getting paid what they're worth.
---
Discover how you can turn all this on you head and find true freedom as an introvert.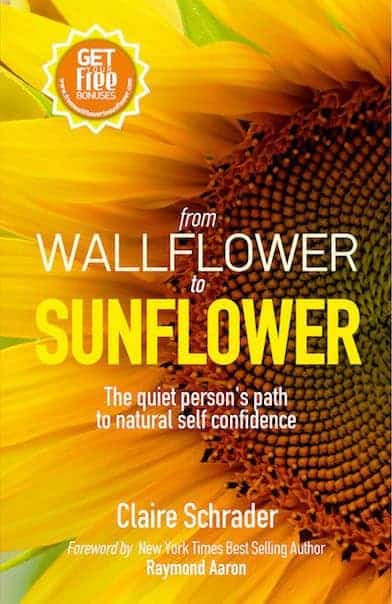 The book tells my story of how I moved from wallflower to a confident person in a relatively short amount of time.
It is highly practical, grounded in psychology and scientific research and offers a step-by-step guide with proven strategies, practical tips, exercises and free online resources.
My courses have helped hundreds of introverted people acquire the skills that many extroverts naturally have – and as a result, make radical changes in their lives and their prospects through the Sunflower Effect – the confidence-building system I have developed.
Reading the book will enable you to get more out of my courses because you will understand more about how the Sunflower Effect works.
You will also be able to download the free bonuses to support you on your journey through the course and afterwards.
The book has been highly praised and received 5-star reviews on Amazon. You can unsubscribe anytime.
---
Another way to get started is to sign up for my newsletter and download three free Chapters from the book .
This is a very good way to get a taste of what to expect when you buy the full book, and will give you more understanding of why you are in your shell and what it will take to get you out of it.
Many of my clients read these Chapters first before booking onto any of my courses. You will also receive news of when the next courses are being offered so you don't miss anything. You can unsubscribe anytime you wish.