Break out of your shell the fast, fun and easy way and develop a natural self-confidence through the Sunflower Effect… a proven confidence building system that has changed the lives of hundreds of

quiet, shy and introverted people.



If you hold back from expressing yourself, from speaking out, from taking risks, and feel you lack confidence because you're quiet, reserved, shy or an introvert…
Learn how to say "goodbye" to inhibitions and self-consciousness and develop a natural self-confidence –  through my London-based confidence and self-expression courses.
Because it's not just the out-going, go-getting socialites that get along in this world.
---
Natural Self-Confidence
My name is Claire Schrader, and I am living proof that an introvert need not live on the sidelines.
I started out in life as the proverbial wallflower – until I hit upon a way to break out of my shell and acquire some of the skills that extroverted people naturally have.
My book, From Wallflower to Sunflower tells my story and how I developed The Sunflower Effect, a fast and effective confidence building system, that has helped hundreds of people put these disadvantages behind them and to start expressing themselves with confidence.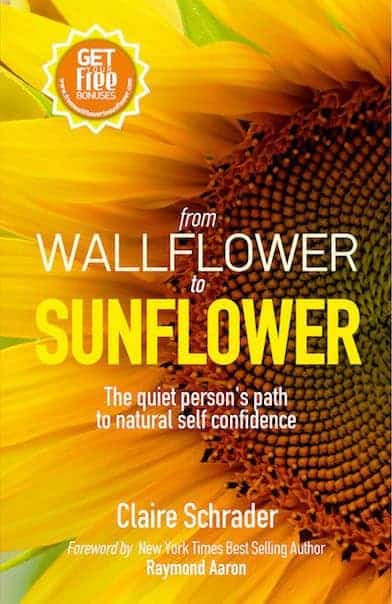 Available on Amazon.
---
What people say about my courses
This was the first ever programme that actually brought about a change in me
"I  had been suffering from social anxiety from a very young age. I had tried CBT, anger management therapy, hypnotherapy, past life regression therapy and went to see many psychologists but nothing really helped me. The change and progress I made through the Breakthrough Course was absolutely priceless.  This was the first ever programme that actually managed to bring about a change in me, unlike every single other therapy programme that I had joined before."
Stefan Baumann, student, August 2016 Verified review from Hotcourses

Just Amazing!
"That overwhelming feeling of being fed up of being the quiet one and not being able to express myself and almost feeling like a fraud when I'm shy with people I don't know well. Is why I began my journey with Claire. It now feels like I'm constantly stretching my confidence like you would do if you were overweight and needed to go to the gym. Week by week I started to see progress. Stretching out of my comfort zone losing excess worries and self-doubt on the way like layers of clothes. I'm so grateful for Claire, and also the people that attend you really do realise that you're not in this alone others are going through similar experiences, and we will overcome it together. Thank you, Claire, you have literally changed my life."
Vanessa, November 2017 Verified review from Hotcourses
---
Break out of your shell the fast way
Watch this video and discover how you can break through your barriers to expressing yourself powerfully in the world (no matter how inhibited or self-conscious you are) – while at the same time having an enormous amount of fun.
My courses will help you to:
Build a natural self-confidence that comes from a deep place within
Have more fun and play more in life
Overcome shyness, self-consciousness, social anxiety or the limiting aspects of being an introvert that is holding you back in your career and social life
Overcome your fear of standing up in front of groups (public speaking), delivering presentations, speaking in meetings – or being in the spotlight
Overcome being tongue-tied in social situations and learn how to "think on your feet" so you can meet challenging situations with confidence
Overcome serious blocks to your confidence that is due to traumatic experiences or a tendency to bottle up your feelings
Move from "Wallflower" to where "the Sunflowers" (the confident people) live – and start building a totally New You. (See my book From Wallflower to Sunflower)
Unlock your natural intelligence and creative potential – no matter how un-creative you believe yourself to be
---
Come and join us
Join the growing number of people who are discovering how easy it is to break out of their shell through the Sunflower Effect, to discover a natural self-confidence.
My courses happen mainly in London – and you will find links to all my courses aimed at beginners in the footer below.
Or see this interview on the Chrissy B Show (SKY TV) in which two clients and I were interviewed on the subject of "How to stop shyness from ruining your life".
---
How to get started
The easiest way to get started is by subscribing to my newsletter and downloading my free e-book "The Self-Confidence Myth" to discover how you can break out of your shell the fast, fun and easy way.
Or check out my How to Get Started Guide in which I will suggest the best way for you get up and running – whether that's to join one of my introductory evenings or to join one of my courses/workshops aimed at beginners.
Or find out why the things you've tried haven't worked and what makes my approach so different – even for people who have struggled in this area for years.
And if you want to know more about me, see more about my story and how I changed from a "shy violet" to being fully expressed in all aspects of my life.
I am rooting for you all the way.
Claire