Hello, my name is Claire Schrader
For the first part of my life, I was a classic wallflower. I was quiet, introverted, incredibly self-conscious and lacking in confidence.
I was uncomfortable in any situation that put me in the spotlight. And I never knew quite what to say to other people. So I said nothing.
And I was missing out.
That is until…
I hit upon a way to break out of my shell and acquire some of the skills that extroverted people naturally have.
As a result, I have achieved things that would simply have been impossible if I hadn't come out of my hiding place.
"You're never an introvert"
When people meet me these days, they find it hard to believe I was once a shy introvert. In fact, the first thing they say to me is: "You're never an introvert!" This is because I appear to be more outgoing than most, very comfortable on stage and in front of an audience. And somewhat of a free spirit.
And then they wonder how on earth I managed to effect such a thorough transformation. Since being an introvert is something that you're supposed to be stuck with.
Well, I am still an introvert, and very happy that I am. Because there are many wonderful things about being introverted.
How I overcame my shyness
Well, it didn't happen overnight…. it happened over a period of time. And it didn't happen because I had any special gifts or abilities.
But I got to the point, when I knew I HAD to do something about my shyness.
Through a series of coincidences, I became involved in drama. The last thing that I wanted to do was drama. But it was the thing that worked the best and fastest in overcoming my inhibitions.
I discovered that drama naturally built confidence.
Drama enabled me to come out of my introverted hidey-hole and undo the negative programming that had kept me locked away in my shell.
And In a relatively short amount of time, my shyness became a thing of the past. My social anxiety disappeared. As a result, my whole life, my confidence in myself and what I believed I could achieve, began to open up.
Hidden Gifts
Much to my amazement, I discovered that there were so many gifts locked away inside me – gifts I never knew I had.
Because as an introvert, these gifts were all held within me. And there they would have stayed if I hadn't have found a way of getting them out of me.
And for the most part, it was relatively easy and highly enjoyable.
In this video, when I was interviewed by Chrissy B of Sky TV, you will hear more about my story and how I have been helping people with similar issues go on to living fulfilling lives.
The Sunflower Effect
Years later, I trained as a dramatherapist and founded Making Moves in 1997.
Over time, I developed The Sunflower Effect® based on what had really worked for me and hadenabled me to move "from wallflower to sunflower" in a relatively short amount of time.
Outstanding Results
Over the years, the Sunflower Effect courses have enabled many hundreds of people free themselves of these disadvantages and develop a natural self-confidence.
Some people achieve this in an incredibly short amount of time. For others, it can take a little longer. And it has been my greatest pleasure to support them on their journey to radically change their lives.
In 2017 my book From Wallflower to Sunflower, the quiet person's path to natural self-confidence was published. It explains in a lot more depth, how the Sunflower Effect works – and also goes into a lot more detail about how I transformed my life.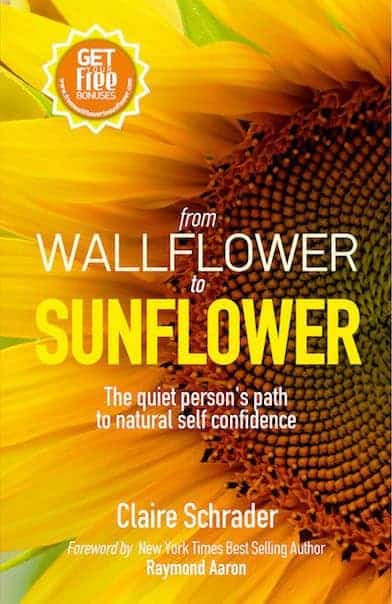 Mission
I am on a mission to improve the lives of quiet, shy and introverted people. I don't want anyone to go through what I did.
Currently, most courses are run by me and only available in London
I have launched the Sunflower Effect Confidence Course Leader Training and am training up more professionals to join my team of Sunflower Effect Specialists across the UK.
There is also a huge need for children and teenagers to get this help. So, my team and I will shortly be developing courses for children and teenagers.
And I would like to see these courses being available in mental health centres and the many other locations and settings where confidence is an issue.
Approach
My style is open and encouraging, allowing each individual to emerge from their shell at their own pace and in their own way.
My courses provide an informal, relaxed, non-judgmental atmosphere that will quickly put you at your ease, and free you of the internal pressures that normally inhibit you from expressing yourself.
Laughter and humour is an important part of the process.
I share openly about my own life and experiences: as one who has been through many dark places in my life, I have come out the other side stronger and with a renewed zest for life.
I continue to pursue my growth bringing back what I have learned to the groups and individuals I work with.
My Qualifications
I have a lifetime's experience of working with these issues, both professional and personal.
Here's some more detail about my training, qualifications and background.
I founded Making Moves in 1997
I am a registered dramatherapist (SRAT (Drama) and a member of BADth (the British Association of Dramatherapists) and registered with HCPC – the Health Care Professionals Council.