The Sunflower Effect Confidence Courses are proven to be by far the fastest, most effective and definitely the most fun ways of building confidence.

Especially when you find out that they are based on an adapted form of drama! They may be designed for quiet, shy and introverted people who would rather avoid doing anything involving drama. But that doesn't mean that it won't be challenging or feel scary!
It is facing these challenges in a safe space with other people who are in the same boat as you, that is going to make a huge difference to your confidence levels.
Watch this video in which I offer some guidance on where you might start.
And then check out some of the information that you will find below.
Please note, I no longer offer the free ebook. It has been replaced by three chapters from my book, From Wallflower to Sunflower
Book a free telephone consultation
Everyone is individual and has slightly different needs, by setting up a 15-minute consultation with me, I can too get to know you, what you're struggling with and which course is going to suit you best.
Our conversation will be completely confidential and will not be revealed to a third party for any reason.
Book a 15 minute consultation with Claire
---
Taster Events
I regularly run Introductory Evenings so you can get a taste of what to expect.
These evenings provide a very safe place for you to gently stretch out of your comfort zone with people who feel in the same boat as you.
"The taster session yesterday was great! I came in feeling nervous and left feeling confident."
Ram IT professional
I also run the one day Express Yourself Workshop.
More intensive than the introductory evening, this one day workshop is a powerful day of self-expression.
It will provide a safe environment enabling you to shift out of habitual modes of being, release some of the blocks to your confidence and discover how to exude the kind of magic and passion for life that makes you look and feel good.
This workshop runs 3 times a year.
I did the 1 day express yourself workshop and can happily say that it was one of the most fun and liberating experiences that I have ever come across.
Ben Chaplin, Librarian
---
Introductory Courses
I offer a wide range of confidence courses which usually take place in London, designed for different needs and different confidence levels.
Most are twelve-week courses and this is where the most significant change can take place through the magical effects of The Sunflower Effect. You will learn too why it's so different from other confidence building methods.
Some people start with Breakthrough and then progress through the other courses.
Others start with with either Finding Your Voice or "I Don't Know What to Say" because of specific challenges they are facing, or because they have reached a certain level of confidence.
---
Lack Confidence because you're too quiet, shy, self-conscious or experience social anxiety?
The Breakthrough Confidence Course is the course that many people do first and is great for building confidence, breaking out of your shell, and becoming more of the "real" you.
The course is a good first step if shyness, social anxiety or self-consciousness is on your radar or if difficult life experiences have undermined your confidence.
I had been suffering from social anxiety from a very young age. I had tried CBT, anger management therapy, hypnotherapy, past life regression therapy and went to see many psychologists but nothing really helped me. The change and progress I made through the Breakthrough Course was absolutely priceless. This was the first-ever programme that actually managed to bring about a change in me, unlike every single other therapy programme that I had joined before.
Stefan Baumann, student
You may also find this information helpful when trying to decide which course is right for you if you experience shyness, self-consciousness or feel you're too quiet.
---
Terrified of speaking in front of groups?
Or do you feel seriously challenged when communicating verbally with others, then I would recommend the Finding Your Voice – Speaking with Confidence Course.
This course is more geared towards spoken communication, and many people come join the course because of challenges around giving presentations. It is also great for overcoming verbal blockages and inhibitions or if you feel that you are unheard by others.
It is unique in that it works to dissolve the symptoms that cause so much discomfort when speaking in front of groups or in meetings.
Many people do this course too, as a follow-on after Breakthrough.
Excellent course to increase your confidence and manage nerves in any public speaking situation. When the course finished I didn't slip back into old habits, I continued to move forward on my journey. Since the course I have presented to groups of over 20 people, I have chaired meetings and have delivered an hours coaching session to a small group! I would highly recommend this course
Ann Williams, Project Manager, Local Government, London
You may find this information helpful when trying to decide which course is right for you if you experience difficulties when speaking in groups.
---
Are you often stuck with knowing quite what to say in social situations?
The "I Don't Know What to Say" Improvisation Course simply the best way I know for becoming more confident verbally.
This group is one of the most effective way of overcoming this issue as well as liberating you in so many other areas – and for most people it is also GREAT FUN.
A special group designed for quieter people to learn the basic tools and techniques of improvisation – that will make an enormous difference to how you communicate in a whole range of situations.
It's six months since I did the "I don't know what to say" course and I'm still seeing the benefits. I surprise myself sometimes as to where my confidence comes from in relating to people.
Peregrine Curran, healing practitioner
You may find this information helpful when trying to decide which course is right for you – if you feel socially awkward.
---
NOTE: Both Finding Your Voice and "I Don't Know What to Say" are suitable for newcomers and for people who have participated in my other courses and workshops. Many people do all three courses – as they work very well together.
People who participate in a series of courses/workshops over a period of time report significant changes in all aspects of their lives as a result – and truly able to move from Wallflower to Sunflower and achieve the kind of confidence they have dreamed of.
---
Are difficult life experiences undermining your confidence and self-esteem?
Breakthrough Plus
is a POWERFUL course that takes place over two weekends that will enable you to TRANSFORM those experiences through the most powerful aspects of The Sunflower Effect.
Similar to Breakthrough and yet more intense. Breakthrough Plus goes a whole lot deeper, gets to the heart of the patterns that have kept you stuck in old roles and modes of behaviour.
The process which takes place on the second weekend has been life changing for so many people – in fact one participant said he made more progress in this one hour process than in 30 years of talking therapy.
The results from her courses are life transforming. Sounds gushy but it's true.
Jane Roberts, writer
If you are new to working with drama, you may want to participate in the Express Yourself Workshop of one of the 12-week courses first.
---
How to book
You can easily book onto any of my courses by visiting the course webpage you will be able to:
book online
set up a free 15 minute consultation with me on the phone
ask a question related to the course.
You will find details of how to book along with course details at the bottom of each course webpage.
Or check out the calendar and find out when the next batch of courses is being offered.
---
Not quite ready to join a group?
If you don't feel quite ready to join one of the courses then coming to an individual session first, can be very helpful. This is another way of getting to know you, and can also help to get over any blocks that are getting in the way of you joining one of the courses.
If you've been dealing with some particularly difficult issues, a series of individual sessions can be very useful preparation for joining one of the courses.
---
Sign up for Three Chapters from my book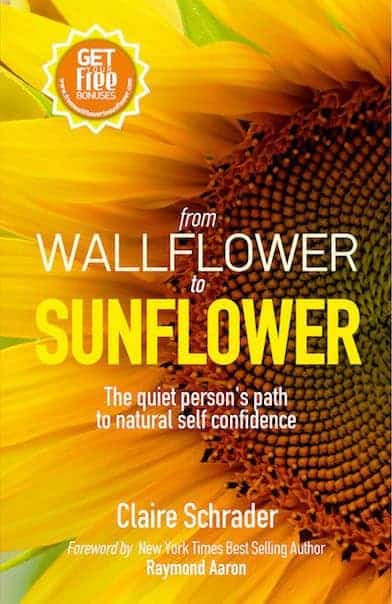 Subscribe to the Making Moves newsletter and receive 3 free chapters from my book: From Wallflower to Sunflower (£14.99)
In these chapters you'll discover:
Why you're not alone, and why more people are identifying themselves as wallflowers
The biggest mistake that wallflowers make when they're trying to build confidence.
Discover the magic power to break old habits and create new patterns of confident behaviour you've had the whole time – but you didn't know it.
You'll also receive regular free resources, tips and support for your journey to greater confidence, as well as information about my highly effective confidence courses.
Subscribe now to receive your free chapters emailed straight to your inbox, and join a community of people like you, who are ready to change their lives.
Many of my clients read these Chapters first before booking onto any of my courses.
---
Another very good way of getting started is to buy the book: From Wallflower to Sunflower – the quiet person's path to natural self-confidence

This is particularly relevant if you are someone that needs to understand more about how something works before you commit to it.
The book tells my story of how I moved from wallflower to confident person in a relatively short amount of time.
It is highly practical, grounded in psychology and scientific research and offers a step-by-step guide with proven strategies, practical tips, exercises and free online resources.
Reading the book will enable you to get more out of my courses because you will understand more about how the Sunflower Effect works.
You will also be able to download the free bonuses to support you on your journey through the course and afterwards.
The book has been highly praised and received 5 star reviews on Amazon. You can unsubscribe anytime.
---
Need More Information?
I hope you find plenty of resources on this website to answer your most pressing questions.
You'll find most of the information mentioned here and more, on the confidence resources page.
Information related to courses is on the confidence courses page
The Frequently Asked Questions page will help to gain a lot more understanding about how the courses work. They will, I hope, allay your initial fears and anxieties, particularly if you've had bad experiences in the past when doing other courses.
Or see How it works to get a little bit of an idea of why Making Moves Sunflower Courses are so effective of improving confidence levels
And if you've participated in lots of different courses/approaches you may want to know why the things you've tried haven't worked and in what way The Sunflower Effect is different.
Or check out the key articles I've written on different aspects of self confidence from my blog. By clicking the category – confidence, shyness, introvert, you will find articles relevant to that subject.
Check out the testimonials of people who have participated
Find out more about my story and how I can help you
---
Or write to us here and tell us a little about your situation and what you're looking for.