a 12-week public speaking course
Next course will start January 21st, 2021 – scroll below for details

Have you got over your worst fears of public speaking but know you could be making more of an impact?
What if you could speak so your listeners are hanging on your every word?
What if you had Charisma?
Charisma is a rare quality – we know when we see charisma because we feel compelled to listen to those who have it. There is a magic about them. We notice them as soon as they walk into a room.
We are so inspired by what they say that we find ourselves almost as enthusiastic as they are about the thing they are speaking about. They have a way of communicating that brings us alive and makes us feel good.
What if you too had the ability to do this? Just think what difference this could make to you in your life?
In truth, charisma is not god-given – it is something that can be learned and developed. When you are able to draw on its magic, your communication can truly be effortless – whether it's delivering a presentation, speaking in meetings, promoting yourself or your services, or expressing your opinion in a more informal setting.
This 12 week course is designed for people who have participated in the Finding Your Voice Course or feel they have a certain amount of confidence in speaking in front of groups – but know there's a whole lot further for them to go.
You'll have lots of opportunity to practice and develop your speaking skills and stretch way further than you thought you could – in a safe environment with a great bunch of people who will support you to the hilt.
This group is designed for you if:
You want to develop your speaking skills and get a whole lot more practice speaking in front of groups.
As a follow-on to the Finding Your Voice course.
You want to be able to inspire your listeners and overcome your tendency to doubt yourself or your abilities.
You want to feel more comfortable promoting yourself, your ideas or a cause you believe in.
You just know that some part of you is in hiding and is keeping you away from the success that is rightfully yours. You need a safe place so that you can
You want to be seen, valued and recognised by the people who are important to you in your life and your career.
The group is limited to twelve people , and this means that you will build up a strong level of trust with a small group of people who are 100% in support of you making a significant breakthrough.
This makes the group a very safe place to explore any area where you are stuck. And you will also be able to work at an individual level. Then watch your life begin to transform in magical and unexpected ways.
Please note: it is fine to miss one or two sessions and still get enormous value from the group.
I have accomplished many things since doing the Finding Your Voice Course and an individual session. After the course I decided to take up boxing as a sport, but started of doing it in aid of Charity. This meant testing myself both mentally and physically. I performed in a boxing ring at a venue of 1200 guests. Being at the centre of attention is not something I like. But with some techniques I learned during the course and training, I was able to pull through and won my fight. This year I presented to the company my boxing journey, which was in front of at least 30 people. Furthermore I have done presentations, hosted meetings, now confidently run my own projects and have taken up the oppportunity to be a business champion in diversity, meaning I will be doing a lot of speaking and even presenting to more senior members of the business including my M.D. and board members. I am not sure how I've accomplished the above, but it's been a remarkable journey so far and have you to thank for that.
Shirley Junta, Project Designer

I think what is particularly great about Making Moves courses is that they make you do things, you would probably never do elsewhere. Things like responding to the immediacy of the situation – may seem easy in theory, but in practice there is not much space to practise them in our everyday life. But the trick is that coming out of one's comfort zone cannot happen in theory, it needs to be a real experience – and Claire's courses will definitely make this experience happen.
Ksenia, Gallery Assistant, London
See other testimonials
THE DETAILS
CHARISMA & SPEAKING PRACTICE GROUP
Dates: 21st January – 8th April (Thursday evenings – 12 sessions)
Times: 7.45pm – 9.45pm
Venue: The Upper Room, 8 Greenland Street, London NW1 0ND
Tubes: Camden Town
Cost: £375 (12 sessions which can be paid in installments) or £360 full payment discount
Please express your interest and preferences in joining the course here, or if you have a question about the course:

---
If new to my work, please book a telephone consultation to explore your suitability for the course.
Book a telephone consultation with Claire
See
calendar
for planned dates of other courses
---
How to Find the Upper Room

Thank you for your interest.
---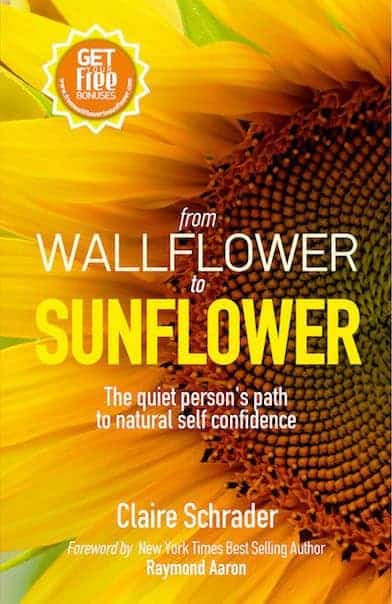 Subscribe to the Making Moves newsletter and receive 3 free chapters from my book: From Wallflower to Sunflower. (£14.99)
In these chapters you'll discover:
Why you're not alone, and why more people are identifying themselves as wallflowers
The biggest mistake that wallflowers make when they're trying to build confidence.
Discover the magic power to break old habits and create new patterns of confident behaviour you've had the whole time – but you didn't know it.
You'll also receive regular free resources, tips, and support for your journey to greater confidence, as well as information about my highly effective confidence courses.
Subscribe now to receive your free chapters emailed straight to your inbox, and join a community of people like you, who are ready to change their lives.
You can unsubscribe at any time and I never pass on your details to third parties or spam you. Read my privacy policy and GDPR policy.
---
Or check out the Finding Your Voice Course which is designed to help you overcome your public speaking nerves or the Express Yourself Workshop
Or if new to this approach come to the Introductory Evening – to experience it for yourself.
Have you got other questions? If so please check out the questions page or send your question to me and I will answer as fully as possible.
In appreciation
Claire Schrader