Next live courses start May 11th @ 7.45
Do you struggle with any kind of public speaking or speaking in front of groups i.e. at meetings, giving presentations, or in social situations?
Do you have a love-hate relationship with the spotlight – you simply freeze up when all eyes are on you!
Are you constantly being told to speak up?
Want to free yourself of inhibitions and to speak with confidence?
Scroll below for booking details
Speaking in front of a group is an absolute nightmare for many people. Particularly if you have a love-hate relationship with the spotlight, suffer from stage fright, or you avoid any kind of situation when you're required to perform.
This image pretty much sums up how many people feel – it feels as if all eyes are on you, watching everything you say and do.
It was the kids that spoke up that got noticed and were singled out for special attention and positions of power, which eventually panned out into the rest of their lives.
And then there were the rest of us. Those of us remained quiet because either that's how we were or because it was the only way to be in our families. And now we're stuck with it?
In our communication-driven world, more and more people are being required to give presentations, speak up in meetings, network and to be more visible.

Speaking with Confidence
The Finding Your Voice Course provides a safe haven for you to free up your voice, to let go of inhibitions and to find your true, authentic voice. It is also a place where you will be able to uncover any vocal blocks and enable to communicate with full power.
It will support you in facing your fear of being in the spotlight – so you can overcome stage fright and truly allow yourself to be seen and your voice heard.
It is different from most other public speaking courses in that it is specifically designed for reserved and talented people who become so overwhelmed by their nerves that in some case they are unable to function.
It is based on my experiences of being a shy introvert and what really worked in enabling me to feel more confident in the spotlight. And a result I have achieved things I never would have dreamed possible. More about my story.
You will learn:
Breathing and vocal techniques
How to present yourself confidently in an authentic way
How to speak from the heart without a script
How to develop stage presence and make a powerful impact
How to be more spontaneous and get free of your inner critic
How to make a lot of noise and release emotional tension
What you are communicating through your body that may be contradicting your words and how to communicate a more congruent message
There will also be an opportunity to work on an area of difficulty, to receive feedback from others and breakthrough any blocks, so you can claim your full power and magnificence.
At the end of the course, I guarantee you will find any kind of public speaking relatively easy and even enjoyable. Many people tell me that they do these events after the group without even thinking about it, and then are surprised to remember what they used to be like.
Making Moves groups have worked for the hundreds of gifted and reserved people, many of whom have been struggling to make changes for many years and report the group quicker and more effective than any other approaches they have tried. It has literally saved them thousands of pounds.
The group is limited to twelve people, and this means that you will build up a strong level of trust with a small group of people who are 100% in support of you making a significant breakthrough.
This makes the group a very safe place to explore any area where you are stuck. And you will also be able to work at an individual level. Then watch your life begin to transform in magical and unexpected ways.
Please note: it is fine to miss one or two sessions and still get enormous value from the group.
THE NO MOVES MONEY-BACK GUARANTEE
We also offer a 100% money-back guarantee. If you have gained nothing from the group we will refund you money in total (less a small admin fee if you have paid by credit card) because we don't want you to waste your money. See below for full details or our full terms and conditions.
What participants say about the course
Having tried multiple variations of therapy, most of which came at a very high price, I found Claire, the course and the group, one of the most effective ways to help manage my anxiety. I find myself now, much more confident in trusting my instinct and knowing what to say…It's been 20 years of dealing with a common thread of negative self talk so thank you Claire, for helping me shift something that once seemed impossible. Tandy Davies, Hospitality
Thanks again for everything you have taught us over the past 12 weeks. For me, it has been by far the most valuable course to help me understand and overcome my speaking fears.
Lorna Good, Finance Business Partner
Excellent course to increase your confidence and manage nerves in any public speaking situation I decided enough was enough and I wanted to get over this fear of public speaking. I was offered a new job that would involve making presentations and chairing meetings. This is something I had always wanted to do but this hidden fear held me back. On the outside my peers would say how confident and relaxed I was but deep down I felt like a bag of nerves.
I didn't know what to expect on this course but I was prepared to give it a go. It was brilliant! The drama, acting and voice exercises gave me the confidence to take on new challenges at work. Claire was very supportive and encouraging. She made the classes fun and safe for me to act out the thoughts and fears that were preventing me from going forward. As the weeks went on, I stopped being critical about myself and started giving myself lots of praise. I had some difficult situations at work and this course gave me the confidence to present myself positively and get my message across in a professional way. I started to realise that people were interested in what I had to say and respected my views. As I moved out of my comfort zone and faced new challenges, I realised the anxiety and fears become less. I felt relaxed in situations that I used to find daunting. I do not shy away from presentations now but feel more excited about doing them. I still have the nerves but I can manage them and feel more in control instead of them controlling me.
When the course finished I didn't slip back into old habits, I continued to move forward on my journey. Since the course I have presented to groups of over 20 people, I have chaired meetings and have delivered an hours coaching session to a small group! I would highly recommend this course and will be signing up for the two-day workshop.
A. Williams, Project Manager, London
Both the course and the 1-1 session have proved effective as I feel I have accomplished many things since. I have delivered presentations, hosted meetings, now confidently run my own projects (more than before but still working on it) and have taken up the opportunity to be a business champion in diversity, meaning I will be doing a lot of speaking and even presenting to more senior members of the business including my M.D. and board members.
I also decided to take up boxing as a sport but started off doing it in aid of Charity. This meant testing myself both mentally and physically. I performed in a boxing ring at a venue of 1200 guests. Being at the centre of attention is not something I like, as you know, but with some techniques, I learnt during the course and training, I was able to pull through and won my fight. This year I presented to the company my boxing journey, which was in front of at least 30 people. I am not sure how I've accomplished the above, but it's been a remarkable journey so far and I have you to thank for that.
Viola, Designer, London,
Before the group started I was very anxious. I was wrestling with the desire to stay safe and invisible vs the desire to break out and start making some noise and fully participate in life in a more authentic way. I was concerned the other participants would all be a lot younger than me and I'd end up feeling worse than before! (They were all a lot younger than me on the whole but I never felt I was treated any differently because of it.)
The most enjoyable thing about the group was trying out new things in a safe space with supportive people. I have a number of memories of powerful experiences from the initial breaking of a strong personal barrier and saying something in front of an audience in the first session to the personal project near the end of the course. The personal project was very powerful for me as it enabled me to approach difficulties I have had since childhood in a very different and empowering way. It manifested so cleverly it wasn't until we were deep into the project session that I realised what I had created, but under Claire's guidance I felt safe to continue and the insights gained were invaluable. I feel I have been released from an ancient detrimental belief, thank you!
By the end of the course, I could really tell I'd made a massive shift. I feel like I'm a lot more authentic and accepting of myself with less feelings of being inferior and needing to hide my true self. Making a connection with my solar plexus has really helped this and it's something I want to develop further so I feel ultimately strong in myself and unshakable by other peoples insecurities. I am conscious now when I am in stressful situations that if I focus on my energy and bring it down to my solar plexus I handle things much better. If I know I'm going into a situation that might be stressful I use some of the breathing and centring exercises we learnt and I find they are very helpful.
The biggest benefit of the group for me is it has given me the tools and the confidence to move forward and I find I am enjoying myself more even though at the moment my life is a bit in limbo. I feel like I'm truly participating a lot more often and when I lose that feeling I check in with my solar plexus and do some relaxing, reassuring exercises/ activities. I'm a lot less nervous about speaking up too. Thank you so much, Claire. For me, this course truly was a lifeline and I'm deeply appreciative that you do this work.
Liz G, graphic designer

What other participants have said about similar courses
---
CURRENT FINDING YOUR VOICE EVENING COURSE
Date: 17th Jan– 4th April 2023 (Tueday evenings – 12 sessions)Times: 7.30pm – 9.30pmVenue: Magdalen Centre, Eversholt St, Somers Town, London NW1 1BNCost: £395 which can be paid in instalments. £380 full payment discount
NEW FINDING YOUR VOICE EVENING COURSE
Date: May 11th – July 27th 2023 (Thursday evening – 12 sessions)Times: 7.45pm – 9.45pmVenue: The Upper Room, 8 Greenland Street, London NW1 0NDCost: £380 (12 sessions which can be paid in instalments) or £360 (Early Bird discount if booked before 19th April)NEW: If your employer is paying for you: £430 or £410 (Early Bird discount if booked before 19th April) or Charities: £380
Subject to demand, we may also run an early evening course 5.30-7.30pm. Please register your interest through the enquiry form below.
BOOKING
There are limited spaces in the course so you are advised to book as soon as possible. You can either book online – see course details above, or book a telephone consultation to explore your suitability for the course.
Book a telephone consultation with Claire
Please be aware that the online booking system shuts off at 5.30pm (2 hours before the course starts) so for last-minute bookings, get in touch by text or phone 0750 112 7813
If you are unable to book, either the COURSE has filled up or something has gone wrong with our booking system. Get in contact below.
---
See calendar for planned dates of other courses.
See my COVID 19 Safeguards.
---
How to find the Magdalen Centre (next to St Mary's Church)
How to Find the Upper Room:
---
Finding Your Voice Enquiry
To ask us or tell about anything else if you're not yet ready to book. We'll be back in touch as soon as possible.
---
HOW TO GET STARTED
Subscribe to the Making Moves newsletter and receive 3 free chapters from my book: From Wallflower to Sunflower (£14.99)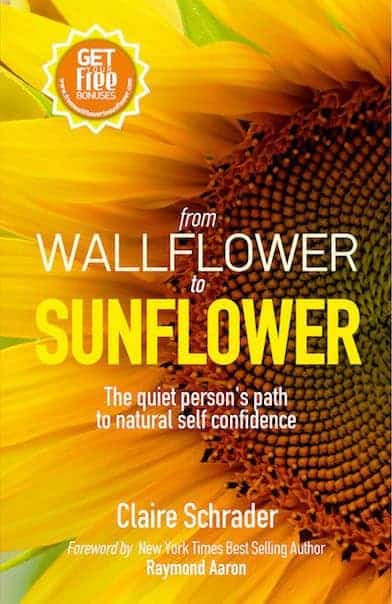 In these chapters you'll discover:
Why you're not alone, and why more people are identifying themselves as wallflowers
The biggest mistake that wallflowers make when they're trying to build confidence.
Discover the magic power to break old habits and create new patterns of confident behaviour you've had the whole time – but you didn't know it.
You'll also receive regular free resources, tips and support for your journey to greater confidence, as well as information about my highly effective confidence courses.
Subscribe now to receive your free chapters emailed straight to your inbox, and join a community of people like you, who are ready to change their lives.
Or if new to this approach, come to the Introductory Evening – to experience it for yourself.
Or check out the Breakthrough for Confidence Course or the Express Yourself Workshop – these are also very good ways of getting started on your Making Moves Journey.
Not sure about participating?
It is very natural to have concerns, particularly if you've just discovered this website. This is why I offer a NO MOVES MONEY BACK GUARANTEE because I know how effective the group will be for you.
But if the course doesn't work for you I don't want you to waste your money. This is also why I like to have a chat with you on the phone before you join the group. If you attend 10 out of the 12 sessions and participate fully in the sessions and you have gained nothing from the experience then I will refund you money in total. I usually ask you to wait a full 6 weeks before you make your request as the shifts often take that long to come into place.
What do I mean by "participate fully"?
You will get more out of the course the more you put in – and that doesn't mean you need to be good or competent at any of the exercises, but it does mean that you need to put "your best foot forward".
Have you got other questions? If so please check out the questions page or send your question to me through the enquiry form above.
In appreciation
Claire Schrader