This page is designed for you if you are a professional therapist, counsellor or holistic practitioner and you want to understand more about the Sunflower Effect, and how it might serve you or your clients.
---
Professional Development
Many professionals attend my courses and workshops as part of their commitment to their professional development (CPD)
…or because they are held back in their work because of self-consciousness, awkwardness presenting to groups, or because they are seeking a creative outlet for the stress that builds up as a result of their work with clients.
So you will find yourself in good company with others on your wavelength and who share your interests. CPD certificates are available if you want them.
You can be assured of complete anonymity and confidentiality. (I would suggest taking a look at the different courses and workshops I run.
Supporting Your Clients
You may be looking for ways of supporting your clients in developing their confidence and self-expression particularly if they are shy, inhibited or introverted.
I am always happy to collaborate with you in a way that is complementary to the work that you are doing with them.
I usually suggest either the Introductory Evening, the Breakthrough Group, the Express Yourself Workshop or the Finding Your Voice Group as a good place for them to start.
---
Here are some comments by professionals about my courses and workshops:
I asked Claire if she would run an Impro Group as I had so enjoyed her weekend workshops. At the time I was feeling a lack of imagination, and I wanted to take more risks.
It was a fabulous group, and that was in large measure due to how well Claire creates safety. Several of the group were nervous (including me), and I watched all of us grow and increasingly take more risks. But the climate of acceptance was such that we no longer (felt) afraid of our bodies and what could come out of our mouths, it deepened out trust of ourselves and therefore each other, and by the end, there was a lovely feeling of togetherness in the group.
I have noticed a huge difference in my teaching work. This came as a result of feeling more confident that I could trust myself to take risks, and the results have been quite remarkable. I would recommend this kind of group and Claire to anyone.
Robin Shohet, Author of Supervision as Transformation: a passion for learning
I feel these are excellent tools for teaching listening, sharing, co-operation, flexibility, self-expression etc. through creativity.
The day reminded me how creative a group of people can be even when they don't previously know one another well. It was totally joyful! We were let off the leash and delighted ourselves with what we were able to produce.
Claire enabled us to do this working openly, sort of "on the edge" allowing our spirit to emerge. The style of the day was to go right to the essence of magic and creativity.
The day served to renew my hope and sense of confidence that everyone has a creative source inside them.
Tony Page, Organizational Development Consultant, Page Consulting, London
I realise that what was missing in many courses was the kinesthetic element… Lots of visual lots of auditory and not much activity…
Claire showed us how kinaesthetic activities and drama can facilitate amazing openings out in people and bring forth delicious hidden talents…
Peta Heskell, Director, The Flirting Academy, UK
Or see the testimonials written by clients.
---
How to get started

As a first step, they may want to sign up for Three Chapters from my book: From Wallflower to Sunflower (£14.99)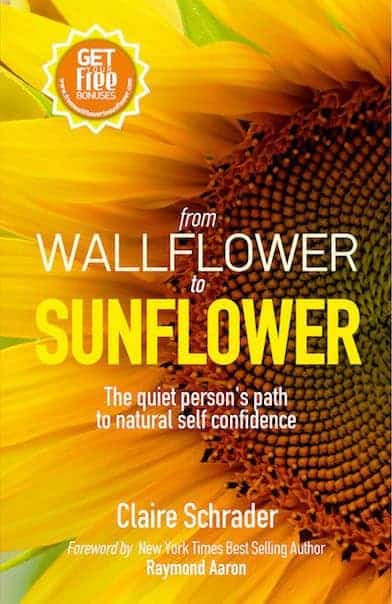 In these chapters you'll discover:
Why you're not alone, and why more people are identifying themselves as wallflowers
The biggest mistake that wallflowers make when they're trying to build confidence.
Discover the magic power to break old habits and create new patterns of confident behaviour you've had the whole time – but you didn't know it.
You'll also receive regular free resources, tips and support for your journey to greater confidence, as well as information about my highly effective confidence courses.
Subscribe now to receive your free chapters emailed straight to your inbox, and join a community of people like you, who are ready to change their lives.
I hope this information will answer some of their questions:
See my confidence resources section which has links to helpful articles and other information.
See how it works
Check out the inspiring stories written by past participants on subjects ranging from overcoming trauma, sexual abuse to the
Stories of particular interest that give you more of an idea of the way the process works:
Vi's story of recovery from abuse and long-term trauma
Althea Hayton's healing of the womb twin survivor trauma who went on to found Womb Twin Survivors.
Leah, a trainee dramatherapist's story of recovery from being too good.
Or check out the answers to the most frequently asked questions
You may wish to copy and paste this information and send in an email to them.
---
Want to know more about the approach for your own interest?
How does the Sunflower Effect achieve such significant shifts in people?
What is the theory behind the Sunflower Effect?
Interviews with me about my approach
---
A PERSONAL NOTE
The Sunflower Effect evolved over 20 years and has had many names during that time. It came about as a result of working with people who were on a personal development path and were wanting to break through their barriers to expressing themselves. And they wanted to do that in a different way. They had had enough of sitting around and talking about their problems and they wanted to take action.
In time, I will be developing a new practitioners training programme so the Sunflower Effect can be available in different parts of the UK.
---
Books by Claire Schrader


From Wallflower to Sunflower – the quiet person's path to natural self-confidence
(Paperback – 13 March 2017)
My new book tells my story of how as a wallflower, I stumbled by chance on a simple and effective way to build a natural and lasting confidence.
It explains how the Sunflower Effect (the confidence-building system I have developed using an adapted form of drama), can move from "Wallflower to Sunflower" – to becoming naturally self-confident.
The book is highly practical, grounded in psychology and offers a step-by-step guide with proven strategies, practical tips, exercises and free online resources.
---

Ritual Theatre: The Power of Dramatic Ritual in Personal Development Groups and Clinical Practice
(Edited (Paperback – 15 Dec 2011)
In 2011 Ritual Theatre, The Power of Dramatic Ritual in Personal Development Groups and Clinical Practice was published by Jessica Kingsley.
The book was edited by me and includes six chapters on different aspects of my work, in which I go into more depth about the psychology behind my approach.
The book also features chapters from leading dramatherapists in the UK and US and how they have worked with ritual theatre to transform people's lives.
See also:
Ritual Theatre Book
The blog post that I wrote around the publication of the book.
The Ritual Theatre Blog to support the book and as an educational platform for ritual theatre.
---

"Breaking Through the Walls of Shyness: Overcoming Shyness, Self-Consciousness and Social Anxiety Through Dramatherapy"
I contributed a chapter on shyness for the Routledge International Handbook of Dramatherapy edited by Sue Jennings, Clive Holmwood:
---
Getting in contact
If you would like to make contact with me or have a question, please fill in the form below – and I suggest you leave me a telephone number, so it is easy for me to be in contact with you.