We are always delighted when someone gets in contact. So if you want to ask a question, want help with booking one of our courses, or want to communicate with us about any of the material on this website, my assistant or I look forward to hearing from you.
Please use this contact form below to communicate with us. Or send an email – here is our email address with spaces added to outwit spammers if you'd prefer to send an email – Michelle at sunflowereffect dot com
Anything you write to us will be kept strictly confidential and won't be divulged to anyone else. Please be aware that we store your data securely in order to deal with your request.
See our privacy and (GDPR) data protection policy.
---
Want to call?
Sometimes, however, it's important to talk to a real human being:
Book a telephone consultation with Claire
Or try me on spec:
Claire UK Telephone: +44 (0)20 3389 8622 This is a new telephone service – let me know if you are having problems using it.
Claire UK Mobile +44 (0)750 112 7813
---
---
Free Resources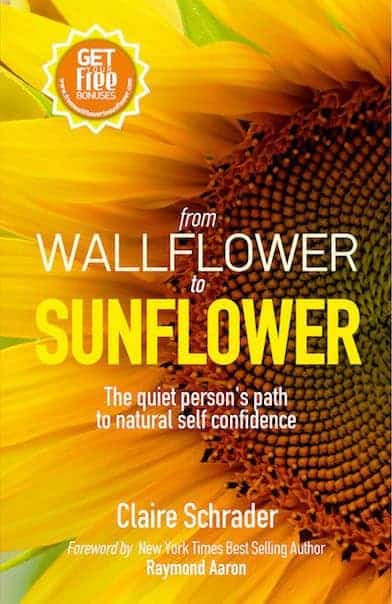 Subscribe to the Making Moves newsletter and receive 3 free chapters from my book: From Wallflower to Sunflower. (£14.99)
In these chapters you'll discover:
Why you're not alone, and why more people are identifying themselves as wallflowers
The biggest mistake that wallflowers make when they're trying to build confidence.
Discover the magic power to break old habits and create new patterns of confident behaviour you've had the whole time – but you didn't know it.
You'll also receive regular free resources, tips and support for your journey to greater confidence, as well as information about my highly effective confidence courses.
Subscribe now to receive your free chapters emailed straight to your inbox, and join a community of people like you, who are ready to change their lives.
You can unsubscribe at any time and I never pass on your details to third parties or spam you. Read my privacy policy and GDPR policy.
---
Are you a therapist, counsellor, coach or holistic practitioner?
See this useful information for therapists, counsellors, coaches and holistic practitioners who are either interested for their clients or for themselves
---
Training as a Sunflower Effect Confidence Specialist

Inspired by what you read here and want to train in this approach. There is an increasing demand for this kind of work in different parts of the country and abroad. I will be launching the first 6 month Foundation Training Course for people with appropriate skills.
See this information about Foundation Confidence Course Leader Training designed for people who are familiar with my approach and/or have a solid grounding in drama, personal development or a related field.
If so contact me telling me about your interest.
---
Want to train as a dramatherapist?
If you've landed on this site looking for more information about dramatherapy training, please contact The British Association of Dramatherapists who will send you a pack about training or see their website http://badth.org.uk/
Contact: Heidi Jockelson The British Association of Dramatherapists Waverley, Battledown Approach, Cheltenham, Gloucestershire GL52 6RE Tel: 01242 235515 Email: administrator@badth.org.uk
---
Thank you for visiting Making Moves
My very warmest wishes