The Sunflower Effect offers a non-judgmental space in which you can free yourself from the psychological barriers that are holding you back.
The approach works through the capacity of drama to bring about significant change in people – using an adapted form of drama  – which goes much further than an ordinary drama class.
WORKING WITH UNCONSCIOUS PATTERNS
It works directly with the unconscious patterns deeply buried within you. It does this by using the language the unconscious operates in, story, the language too of your dreams. So it's a bit like being able to communicate with people who only speak a foreign language, in their own tongue.
We are thus able to work directly with the unconscious in the language it understands and resolve many issues that otherwise would remain insoluble.
Our psychology is often a mystery to us and we often don't know the reason we feel the way we do – and it is difficult to make changes because the reasons we have shut down or retreated into our shell are so deeply hidden from us, i.e. in our unconscious.
The photo below shows a participant making a significant shift. At one level she is having great fun expressing herself – but at a deeper level she is liberating the parts of her that have been locked away
PSYCHOLOGICAL UNDERPINNING
Both Jung and Freud understood the power of working with stories to effect powerful psychological change – particularly when working with ancient myths some of which are many thousands of years old. In fact, this healing system was an ancient form of medicine and has been around for thousands of years – and it worked.
Making Moves draws on Jung and Freud's work but takes it a step further through enacting powerful stories- you are working directly with your unconscious mind but also liberating yourself physically of old habits and behaviours.

JOSEPH CAMPBELL
I also draw on Joseph Campbell's work – a wonderful man who encouraged us all to "follow our bliss", and he created what is called "The Hero's Journey" – a way of seeing our journey in life and to overcome obstacles in our way.
This is of course very relevant to people who have encountered a lot of obstacles in their lives, offering them a pathway to realising that they can overcome even their toughest obstacles.
Joseph Campbell was a mythologist, and he saw how ancient myths were still relevant to us today. Indeed he went further than that to say that working with myths put you back in accord (in harmony) with Nature. What he means by this – is that working with myths enables you to access your true self, your natural self.
This is one of the key reason that the Sunflower Effect is so effective at enabling you to access your natural confidence. This is the confidence that is within you – but is deeply buried due to your personality or life experiences. See my book From Wallflower to Sunflower – sign up for your three free chapters.
He also saw that as a civilisation that we are hopelessly out of touch with Nature.  This is another reason why we are stuck in our heads and cut off from our instincts and intuition. And this is even truer in the twenty-first century with the increasing impact that electronic gadgets are making on our everyday lives.
I was delighted when Phil Cousineau, author of the seminal book on Joseph Campbell's work, recognised how much Joseph Campbell would have loved the approach I have developed – if he was still alive. He saw my approach as fulfilling Campbell's vision.
"Claire Schrader's new book … fulfils Joseph Campbell's vision of a remythologized world, one in which we would be, as he loved to quote Cezanne, more "in accord with nature."
Phil Cousineau, author of The Hero's Journey: Joseph Campbell on his Life and Work
BY-PASSING YOUR MIND
In my courses, you will draw on all this as well as learning how to bypass your mind and connect with your natural instincts through which it is possible to truly free yourself of the limitations, fears and anxieties that keep you locked away.
This is also what will put you in touch with your natural confidence.
See also The Curse of Being Too Nice and The Curse of Emotion
My training is in dramatherapy – which has enabled me to work in a safe and empowering way, as well as speeding up the process in which change can take place – so that my clients can make much faster progress than I did.
See my background and training.
There is, of course, an awful lot more to the process, based in complex psychological theory. You can find out more about how The Sunflower Effect in my book From Wallflower to Sunflower – the quiet person's path to natural self-confidence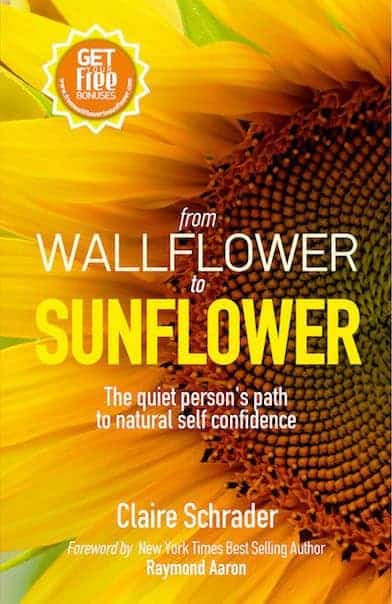 If you are a counsellor, psychotherapist or a professional working in this field, you may want to take a look at the textbook I edited Ritual Theatre.