Discover how I started out in life as the proverbial wallflower with minimal confidence, until I stumbled by chance on an effective way to say goodbye to my life as a wallflower in a matter of a few months.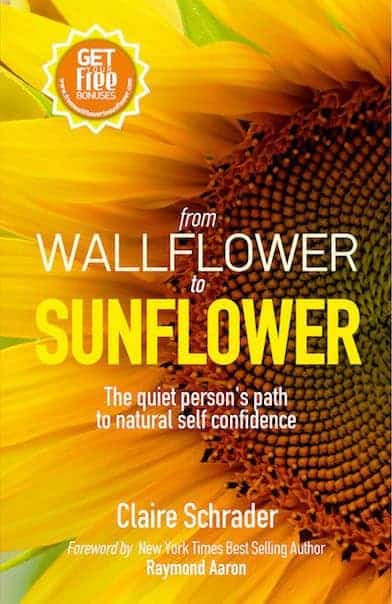 Sign up for my newsletter and download three chapters from my book From Wallflower to Sunflower, and get you started on your journey to building a natural self-confidence the fast, fun and easier way.
You will learn :
Why more and more people are identifying themselves as wallflowers.
The biggest mistakes that wallflowers make when they are trying to build confidence
The fastest way for quiet, shy and/or introverted people to build a natural self-confidence that feels like the Real You.
How the Sunflower Effect is the most effective way to break old habits and create new patterns of confident behaviour.
Why you don't change when you really want to, and how you can.
Your subscription will also include free subscription to my newsletter with videos, helpful articles, resources and updates on confidence courses to support you on your journey to developing a natural self-confidence. You can cancel at any time.
P.S. Sending us geographical information really helps us.
Making Moves is at the moment London based, but I will be training people up in the Sunflower Effect so courses can be offered in other parts of the UK, and in time, in other countries too. So it is really useful to know this information so we can train people up in places where they are really needed. Thanks for your co-operation.
My apologies to Firefox users – the sign-up form is not displaying on this page because of a tracking issue. You should be able to sign up here – but please get in touch if you have issues.
Or follow these instructions which will turn off tracking for my website. I don't track you. Or, you could try another browser (both Safari and Chrome are working.)
Click here if you are having problems subscribing for any other reason
Or contact us for help with getting the chapters.
---
Watch the video and information below to find out more about the book.
These chapters book is designed for you whether:
You've never felt or experienced yourself as particularly confident. You were shy as a child, and it's still with you in some way.
There are certain situations where your confidence utterly deserts you, e.g. speaking in front of groups, meeting new people, delivering a presentation, communicating with challenging people.
Your confidence has been undermined due to challenging life events.
You know you could be doing an awful lot more with your life than you are – but you're hiding yourself away because you lack the one thing that you need: the confidence and self-belief to achieve your goals.
What readers say about the book: From Wallflower to Sunflower:
Having just finished this book, I feel so full of hope and excitement …. As someone who has spent life feeling trapped in the straightjacket of shyness, I now feel confident the author has just shown me the way to escape….
Thankfully this book answers the question because the author knows how it feels to be trapped in the prison of self-consciousness and shyness and, having discovered the escape route for herself, she is clearly passionate about helping others find freedom also.
The story of her own personal journey is moving and inspiring….The creative methods she has developed over years of helping people break out of their comfort zone intuitively make sense to me, but they also seem to blend together principles of some well established, proven psychological therapies in a fresh and creative new way….I finally feel like I have a map to guide me there and that surely has to be a great start. See review on Amazon
---
From Wallflower to Sunflower is a superb book that must be bought and read. If you haven't yet had the opportunity to discover the work of Claire Schrader, this book will give you a thorough insight into how using drama in a safe space can bring about amazing healing and empowerment…
There are various exercises and techniques which I am already using in my life to make sure I don't resort to my 'wallflower' tendencies and be the 'sunflower' that I am! Also weaved into the book are Claire's own struggles and how she found solutions and healing from a quiet and shy girl to one of absolute self-belief and confidence. See review on Amazon
Visit the book's website and find out more about the book, including videos and photographs from the book launch, resources and inspiration.
Buy the book on Amazon Visit the book's website
---
Don't want more junk in your inbox?
I understand I hate junk too. But read some of the spontaneous, unasked-for comments from readers, which is a sampling of the kind of things people write to me as a result of receiving my newsletter and similar products.
Dear Ms Schrader, 
I came across your website the other day while searching for information on overcoming fears. Your compassion and enthusiasm immediately grabbed my attention. I read many of your articles and signed up for your digital book. The book has been so reassuring, insightful and beneficial, and it's not yet over! I especially enjoyed the beaming visualisation and it's something I am now incorporating into my daily life. Thank you so much for providing the information and opportunity for me to take a step in overcoming my fears. I can't begin to tell you how much it's appreciated.
Z.A. Student
In one fell swoop, you have discovered me. I do feel I fit many of the descriptions outlined in the book. I feel relieved at this because I had thought for many years that there must be something wrong with me as I could never quite connect with people.
D.C. Administrative Consultant
Dear Claire, It's such a comfort to know that since you have experienced many of the difficulties that I experience daily, you will have a naturally sympathetic and understanding attitude. Many of the psychologists I've seen tend to be patronising and clearly have no idea what it's like to be shy, reserved or introverted. Many Thanks.
G.W. Nanny, Oxfordshire
Recently parts of your book have been coming to mind which made me want to reread it. Although I haven't made it to one of your courses yet, I have been enjoying your articles very much. They have been inspiring me to live joyously and share my creativity more openly with others. Thank you for stirring up my passion for life!
Rasoul Kaur
At any point after subscribing to my newsletter, if you don't wish to receive the newsletter or confidence resources, you can easily unsubscribe by clicking a link at the bottom of any newsletter you receive from me). I don't plague you with emails.
These chapters are completely free, and there are no catches, although if you do go on to buy the full book, you will receive much deeper benefits.
If you like what you have seen, of course, go ahead and subscribe – above. I don't believe you'll be disappointed.
How to get started
Confidence courses
Frequently Asked Questions