Subscribe to the Making Moves newsletter and receive 3 free chapters from my book: From Wallflower to Sunflower. (£14.99)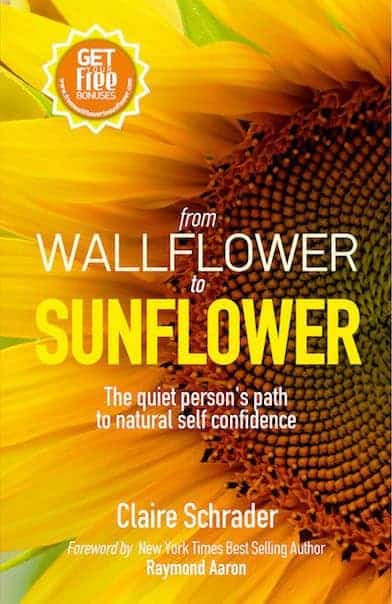 In these chapters you'll discover:
Why you're not alone, and why more people are identifying themselves as wallflowers
The biggest mistake that wallflowers make when they're trying to build confidence.
Discover the magic power to break old habits and create new patterns of confident behaviour you've had the whole time – but you didn't know it.
You'll also receive regular free resources, tips and support for your journey to greater confidence, as well as information about my highly effective confidence courses.
Subscribe now to receive your free chapters emailed straight to your inbox, and join a community of people like you, who are ready to change their lives.
You can unsubscribe at any time and I never pass on your details to third parties or spam you. Read my privacy policy and GDPR policy.
---
My apologies to Firefox (and maybe other browser) users – the form is not displaying at the moment.  I suggest you try another browser (both Safari and Chrome are working as far as I can see) or contact us so we can let you know when the form is working again.
P.S.  Making Moves is at the moment UK based, and all my courses take place in London, so you will be receiving information about my London Courses.
However, I will be training people up in the Sunflower Effect so courses can be offered in other parts of the UK, and in time, in other countries too. So it is really useful to know this information so we can train people up in places where they are really needed. Thanks for your co-operation.
If you are having problems signing up here this page may help you to sort out the problem for yourslef : CLICK HERE 
---
Newsletter article subjects have included:
See past articles
---
Don't want more junk in your inbox?
I understand, I hate junk too. But read some of the spontaneous, unasked-for comments from readers, which is a sampling of the kind of things people write to me as a result of receiving the e-book, newsletter and other offerings.
I LOVE your article, Claire! I'm starting to get it why drama is good for you, though my first block would be overcoming my crippling stage fright! Your article is well written and makes so much sense…..I had wondered why so many comedians suffered from depression!
S.W. Artist

Hi Claire, Just writing to say thank you so much for all your articles,they always manage to make me feel better as sometimes in this world there is little I can relate to and these newsletters have a voice I completely identify with. Thanks.
T. V. Student
Dear Claire…How do i really share or elaborate the worded response – 'awesome' – that escaped my mouth, as I read this? How do I really tell you what the 'awesome' springs from? How does one describe this 'physicality' that you so wonderfully talk about? I was thinking this thoughts as I thought of how to tell you how touched I was…. and it seemed so important to me that i share that… I felt like a christmas tree that was all ablaze with bright lights – not light-bulbs, but more like intensely bright flash-bulbs popping here and there constantly… Your article lighted me up… like a christmas tree that was dynamically lighted. Thank you. (only the tone of the voice would convey what lies within and beneath this word.)
B.S. IT Consultant
Dear Claire….I do enjoy your pieces – they have a great combination of wit and wisdom……
S.S. (Counselor)
I have to say I love the way you write and find it very meaningful and helpful….
C.M (Project Manager)
Claire….you are just one word….Amazing!!!!!!!!!!! Your writing is one of the first to really get to the core of my problem and solve it. Really, thank you from the depths of my heart. Khadijah 
See https://www.makingmoves.net/introvert-performance-anxiety/#comment-65
If you like what you see, of course, go ahead and subscribe. I don't believe you'll be disappointed. Scroll up to find the form.
It is easy to unsubscribe by clicking a link on the bottom of any email or newsletter you receive.