Breaking the pattern of struggle
In the myth of Sisyphus, Sisyphus is doomed to roll a very large stone up a hill.
It requires a huge amount of effort, and at the end of the day, his strength gives way and so the stone rolls down the hill, leaving Sisyphus no choice but to start the process all over again the next day.
And so it goes on, day in and day out.
Little does Sisyphus know how close he was to getting to the top of the hill, and to the end of his toil.
Many people relate to this story, repeating this pattern endlessly throughout their lives. They struggle and struggle and then give up, little knowing how close they were to achieving victory. Like Sisyphus they applied their logical minds to the problem, believing that this is the only way.
If you're anything like me, however determined and persistent you might be, the effect of living with the struggle gets you into a mindset that just perpetuates the situation. Ultimately is deeply de-moralising.
The truth is, Sisyphus does not have the physical strength to roll the stone all the way up the hill. To keep on and on rolling it up the hill day in and day out is draining his life energy and his potential to change the situation.
And it's the same for you.
---
Are there things in your life that feel a bit like Sisyphus's stone?
Feeling handicapped because you're locked away in your shell?
Working so hard but not being valued for who you are or what you do?
Being taken advantage of, or not being paid what you're worth?
Your battle with shyness or speaking up in front of groups?
Feeling weighed down with emotions, and fear that if you begin to let them out your life will fall apart?
Feeling unfulfilled in your job or putting up with an unsatisfactory relationship?
So you keep on going, keep on coping in the belief that one day it will get better. Surviving life's struggles is what you know how to do?
 How do you begin to get out of your own way?
But life is funny. Every so often it sends you a lifeline.
It may come through someone you meet, a leaflet you pick up, through surfing the internet, through losing your job or relationship that causes you to rethink what is really important to you. Maybe it was visiting this website?
This is your "Call" to make a change in your life.
Joseph Campbell, a remarkable man who spent his life thinking about this issue, called this lifeline "The Call to Adventure".
What happens next, he says, is totally up to you.
Either you listen to the Call, or you ignore it. Perhaps you receive too many Calls, and you don't know which one to listen to?
Perhaps you are like Jonah in the biblical story, and you avoid the Call because it feels too big or you know it's going to challenge you or be uncomfortable.
Whether you ignore, avoid or are confused by the Call, almost inevitably you will find yourself in the "belly of the whale" as Jonah did, unable to do anything.
In my experience, if you receive the Call to make a change in your life, and you don't take action, you are changed forever. You can't turn the clock back.
The Call will keep on knocking on your door until you take action. Whilst you prevaricate the "belly in the whale" will keep you very stuck.
---
Are you in the belly of the whale right now?
How you will know.
It's a big dark space where nothing much is happening, it may even feel quite comfortable, and there's a voice inside you that says "if only you had…."
You may feel any of these things:
Depressed. Depression is often the result of not responding to the Call.
Resigned to your situation. You soldier on determined to make the best of things but you know deep down nothing is going to change. And it doesn't.
Really stuck. You can't see a way forward.
Overwhelmed by negative emotions and thoughts.
Deep down, you believe that someone like you is never going to change.
It's going to be far too hard to make a change, so you might as well give up now.
The belief that you don't have the time or the money to invest in the process of change.
Exhausted. You may experience burn-out, ill health or a severe lack of energy.
How often do you hear the call to take action about some area of your life and you ignore it?
Once a year? Once a month? Once a week? Every day?
If you are hearing this voice on a regular basis, I suggest it is time to take action NOW!
Image credit: Stuck in the Belly of the Whale by Marcia Webb
The truth is that once you take the first step, something seems to shift. It is never as hard as you think it was going to be.
After you've taken that first step, Joseph Campbell tells us, help and helpers will appear to assist you- seemingly from nowhere.
In Jonah's case, once he decides to go to Ninevah, the whale ejects him out of his belly onto dry land. The task of preaching repentance to the people of Ninevah turns out not to be as hard as he thought it was going to be. The opposite in fact. They repent gladly.
If your life feels a bit like Sisyphus or Jonah, maybe its time to stop.
Stop rolling the stone, stop toiling and struggling. Stop avoiding and ignoring what is really important to you. There is a more successful way of dealing with challenges. Maybe there's a creative solution you haven't yet thought of.
And in my experience there always is.
There is a gift lurking somewhere in the interminable struggle.
I'm not asking you to commit to anything right now, but I'd like to invite you to consider taking one small step forward.
And I mean a small step.
It might even be fun!
What is the most surprising thing for many people when they join one of my courses, is that they find they are able to make significant shifts to their confidence levels whilst at the same time having the most enormous fun. And then they wonder why they spent all that time struggling.
This is because most methods for change involve digging up the past, churning over unresolved issues and going through the pain.
Find out why the things you've tried haven't worked.
---
I have a personal theory that it is actually far more healthy and healing to have fun while shifting the stuck places and that the effects, as a result, last much longer.
---
One of the unique things about my courses is that they work through The Sunflower Effect, a powerful confidence-building system that I have developed and refined over a 20 year period, based on my experience of completely changing my prospects in this area.
It will enable you to work directly on transforming the habitual  patterns that are keeping you stuck AND have fun at the same time?
---
Do you relate to Catherine's story?
Catherine had a big dream that she saw no way that she could possibly fulfill – given that she lived most of her life in hiding.
This dream was calling her from out of the shadows, however much she ignored it or pretended to herself, she knew she couldn't continue to sell out on herself. Read about Catherine's inspiring confidence building story.
---
How to get started?
If you haven't already done so I suggest you sign up for my free e-book "The Self Confidence Myth" which could be a powerful first step in emerging from the belly of the whale. This will also subscribe you to my regular newsletter with more articles of interest as well details of upcoming Making Moves events.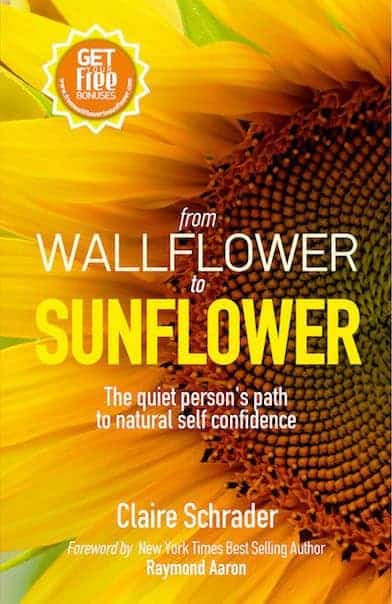 Or buy my new book From Wallflower to Sunflower – with lots of information about how to build a natural confidence and how to get over the blocks that might stand in your way.
New Book: From Wallflower to Sunflower – the quiet person's path to natural self-confidence
Or take the plunge and join a group or workshop – or book an individual session.
---
Get in contact by email and tell me about what you're grappling with.
I look forward to hearing from you.