There are certain people who particularly thrive from the Sunflower Effect Courses. Not just thrive. It's as if a light has been switched on in them.
Is this like you in any way?
You are quiet, shy, reserved or an introvert. You feel as if you are in a box. This may also, be as a consequence of restrictions from earlier in your life and as a result, you have a tough inner critic constantly censoring everything you do. You haven't spoken up when you knew you should, and you've missed out on opportunities, and this has hampered you in your life and career.
You confident in many other areas of life but there's this one area that has you running for the door – giving a presentation, speaking in meetings, or any situation when all eyes are on you. You have a love-hate relationship with the spotlight, so you avoid situations where you're the centre of attention or exposed in any way. Although there may be a part of you that longs to be seen, noticed and appreciated.
You don't find it easy to meet new people either because you find socialising difficult and never know quite what to say or because you find it hard to approach people you don't know.
You find it hard to network or to promote yourself. You never feel you're convincing enough. You know you have to get better at "putting yourself out there" if you're going to be as successful as you want to be.
You've had a lot of difficult experiences in your life. Perhaps you've been bullied, ridiculed or made to feel that you're not like other people. As a result, there's this deep, dark place you go to from time to time, and you seem to feel everything ten times more intensely than anyone else. You get really down – sometimes for no reason – and you find it tough to get yourself out of it.
There's a very special bunch of people that usually come to the Sunflower Effect Courses.
Most people come because they are seriously motivated to bring about a change in their lives – either because their work requires them to improve performance or because they want to expand their comfort zone.
Most have little or no experience of drama before coming to a Making Moves event. They are the "I could never do anything like that – because it will be full of drama types who love to show off" kind of people. Fortunately, this kind of work does not attract show-off drama types.
Without exception, the people who come are kind, generous and supportive of others. They are the kind of people who put others first before thinking of themselves.
It does, however, attract people who find drama a powerful way of expressing themselves and freeing themselves of negative conditioning and mindsets.
Most people comment on just how lovely the other people are and how quickly they feel at home and part of the group. The spirit of camaraderie between people and the sense of connection with other people is what makes the experience so heartwarming.
There is a very wide ethnic mix of people who attend.
---
But will it work for you?
I have a very high success rate for helping my clients come out of their shell. And the Sunflower Effect certainly works very well if you have these values:
You are ready to step out of your comfort zone and experience something new. You are committed to bringing about changes in your life but believe growth does not need to be heavy or difficult. You are more drawn to approaches that are positive and supportive.
When you make a commitment, you stick with it because you've seen the results when you do. When you participate 100%, you receive 100% back.
You are willing to invest in yourself, and that investing in your own growth and development pays off enormously long term.
Who is not for?
The Sunflower Effect Courses are designed for normal adults over 18. They are not designed for people who are going through a mental health crisis or who have significant vulnerabilities. If you have a mental health diagnosis or history or have experienced any significant difficulties that may affect your participation, please tell me about it when you sign up for a course.
If you have any doubt about your suitability for joining one of the course, please get in contact with me and tell and tell me a little bit about your situation or set up a time to speak to me.
Book a telephone consultation with Claire
---
If you are resonating with this and want to find out more?
How to get started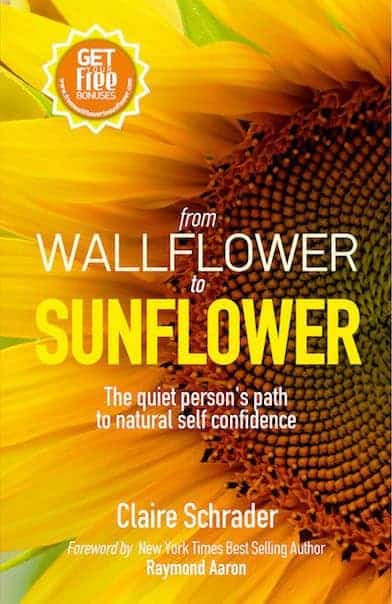 Subscribe to the Making Moves newsletter and receive three free chapters from my book: From Wallflower to Sunflower (£14.99)
In these chapters, you'll discover:
Why you're not alone, and why more people are identifying themselves as wallflowers
The biggest mistake that wallflowers make when they're trying to build confidence.
Discover the magic power to break old habits and create new patterns of confident behaviour you've had the whole time – but you didn't know it.
You'll also receive regular free resources, tips and support for your journey to greater confidence, as well as information about my highly effective confidence courses.
Subscribe now to receive your free chapters emailed straight to your inbox, and join a community of people like you, who are ready to change their lives.