Next live course starts May 10th @7.30pm
Never again be stumped for something to say
Do you dry up, go blank, or get tongue-tied in social or professional situations? You'd love to respond humorously when someone makes a smart remark, but you can't think of anything to say. One of the reasons that you dry up, is because you go into your head and try to think of something to say.
Are you afraid you might say or do the wrong thing? Do you avoid failure at all costs because of experiences that have happened in the past, or because you were heavily criticised at work or in your family?
If you are an analytic kind of person (you may be an introvert), then this will be your default mode. You've got this internal critic that never lets up, and is constantly criticising everything you say and do.
No wonder you get blocked and begin to panic.
---
LEFT BRAIN DOMINANT
Most of us have become left-brain dominant because of the way we've been educated and we don't know how to activate our powerful, and more creative right brain.
Improvisation sometimes known as "improv" is probably the most effective way of getting over the "I don't know what to say" syndrome – because it bypasses the inner critic and activates your creative right brain.
It can be easily learned, and once you've got the hang of it, it will change your life forever in this area. You will be amazed at what starts to come out of your mouth without having to think about it – things you don't believe you could ever have thought of.
It's also great for building self-confidence, releasing creativity, and overcoming inhibitions.
As an introvert, who was once very inhibited in social situations, the skills that I learned through improvisation literally changed my life. I discovered how to be witty, playful and humorous in social situations – and so much more. In fact, I still use those skills today, and I wouldn't have achieved half the things I have in my life without them.
---
Improvisation Course for beginners
The course is designed for you for any of these reasons:
You often get tongue-tied, dry up when under pressure, dread the moment when you are asked to contribute in a meeting or a social situation, or you never know quite what to say to people when they make a smart or playful remark.
You'd love/want to be more spontaneous, more able to respond in the moment, and have a lot more fun and humour in your life – both in work and social situations.
You are highly critical of yourself, afraid of failing and making mistakes.
You would never go near a drama, improv or any kind of class where you would be required to do something that would make you feel foolish.
You're looking for a way to get out your head and bring yourself alive so you can express or discover more of what lives within you. You'd love to say goodbye to the inhibitions that are stopping you from expressing the real "You".
LEARNING TO MAKE MISTAKES
---
"I Don't Know What To Say" is a very safe environment to make mistakes and take risks. This is something that doesn't come so easily to quieter, more reserved people. You may have a tendency to want to keep your head below the parapet and feel you don't have the luxury to make mistakes.
You will learn the basic tools of improvisation, that will enable to respond rather than feel you need to initiate or have brilliant ideas. You will discover there is no such thing as a brilliant or creative idea. In fact, making a mistake can be the most brilliant thing you can do.
You will learn to truly to give and receive, and that by receiving fully and allowing yourself to respond in the most natural way – not from your head – but from your gut feelings…. then that can be a true gift to other people. In fact, just receiving can be a gift in itself – without you having to do anything. Even getting frozen can be a great gift. If you are a habitual doer or giver, this can help to undo some of this programming.
You will learn too, how to follow positive flow in your interactions so that an effortless flow of receiving and giving can happen. Take this skill into your life and watch your life take on a completely different quality. You will begin to experience more ease in your life, you will deal with challenges more effectively and will find more synchronicity come into your life.
You will also be able to let the many parts of yourself out of the cupboard. It will also build your confidence, free up spontaneity and liberate you in so many areas of your life.
This is a more verbal group than my other events so will teach you verbal dexterity, and will help you overcome any ways in which you are habitually blocking yourself in your communication with others. (See below for dates).
You will need to commit to the whole group – you can miss sessions but you will need to pay for them.
---
WHAT YOU MIGHT GET OUT OF IT
You will have the opportunity to be part of a very supportive group who are all rooting for you. This on its own can be very healing, particularly if you're someone who has a tendency to give more than you receive from other people.
You will find yourself thinking less and allowing yourself to communicate in a natural way without the need to analyse everything before you speak.
You will learn how to be more spontaneous and how to respond in the moment, so you will become less inhibited in social situations.
You will have tremendous fun, playing and creating with other people even if you think you can't play. You are likely to find it easier to play more in your relationships and interactions.
People very commonly find that health problems and emotional issues simply melt away as a result of the group. For one woman, a long-standing back problem completely disappeared as a result of participating.
If you experience any kind of creative block or feel stuck in the area of writing, art, music or performance etc you will see a dramatic shift in your creative output, expression and if your art form requires you to perform, you will experience a vast shift in your confidence and self-expression.
---
HOW IS THIS DIFFERENT FROM OTHER IMPROVISATION CLASSES
Firstly this is not an anonymous class where you are thrown in the deep end and where everyone else seems to know what they're doing except you.
This is a group – where you will build up a high level of trust with other participants in a very safe environment. A very important aspect of the course is the support and encouragement that you will receive from other course members.
MORE ABOUT CLAIRE
Claire Schrader is an expert in confidence and self-expression and having overcome acute shyness and self-consciousness, she knows what it's like to feel inhibited and will gently guide you through a process that will enable you to easily overcome your difficulties. She also was trained by one of Keith Johnstone's actors and has adapted these techniques to help people who feel they lack self-confidence, express themselves powerfully in their personal and professional lives. She has been running Making Moves Course since 1997 and developed the Sunflower Effect, a powerful confidence=building system based in improvisation. About Claire
What participants say about the course
Infinitely more than I could have hoped for when tentatively enrolling
When I joined the course, the phrase "I don't know what to say" was all-consuming. Speaking at work and even with friends, I was so worried about myself and saying the wrong things that I became the mouthpiece to the nightmare in my head. The first few weeks were challenging and I gave into my own self-consciousness a number of times, but Claire led by example, alleviating a lot of my doubts and helping me cultivate a more blasé attitude to being around people and speaking my mind. This environment is unlike anything you will find in everyday life, and the freedom you are afforded is completely transferrable. Simply put, I give much less of a f*** now than I did 12 weeks ago, and this is infinitely more than I could have hoped for when tentatively enrolling. I would do it again without hesitation as it is easily the best decision I've made on my journey of self-improvement. –
Colin O., legal writer,
A brilliant way to get more confident socially
The thought of improvisation can be both attractive and scary. For those who want to feel more confident in whatever way, doing one of these courses is a brilliant way to achieve a feeling of greater security in social situations. Plus a renewed respect for the creative resources which are available to us and that playing improvisation games releases. The course made sure that we were not 'in our heads' but operated in a freer and more spontaneous way. We were a mixed group, some shy, some thoughtful, some out-going. And we all found ways to be more playful, more expressive and confident by the end of the sessions.
Thelma, a former teacher
It's six months since I did the "I don't know what to say" course and I'm still seeing the benefits, thank you for the whole experience. I surprise myself sometimes as to where my confidence comes from in relating to people.
Peregrine C, healing practitioner
These courses are addictive. I did a weekend workshop early last year, I've just completed a 12 week "I don't know what to say" improvisation course, and I know that I'll be back in the future. A great experience, you learn without "learning", you have lots of fun and all while developing skills that will assist you, whatever type of work you do, or whatever your personal goals.
Marcia, Project Manager

I always look forward to going….
I've really enjoyed the "I don't know what to say" improv course. I started off being quite nervous and scared of looking silly, ever ready to criticise myself. Now I don't think in that way in the group and find this confidence is spilling out into my everyday life. I'm far less likely to censor what I'm about to say and can enjoy being spontaneous and bold, even playful! I've still got a way to go and I'm hoping to continue the work with Claire for another session.
Julie, teacher
When I was a child my mother was in a very positive high status looking after the family. She lost it and felt failure guilt and shame when criticized, blamed and rejected by my father. Then I replaced her to look after the family and I was in a positive high status trying to please and serve my father. Later, the same way as my mother I was criticized and rejected by my brothers.
The improvisation course gave me a chance to live from my solar plexus (instincts), rather than from my conditioned mind, through my body, my emotions and by being spontaneous. This was possible because of the safety and encouragement of the group. So I could practice being my real Self in relation to other people, which I could not be before I joined the group. In the weeks in between each session,I did experience the flashback of feeling completely sick in relation to other people. and it was healed every step before I would come the week after to the group.
Christine D, self-employed
I asked Claire if she would run an Improvisation Course as I had so enjoyed her weekend workshops. At the time I was feeling a lack of imagination and I wanted to take more risks. It was a fabulous group and that was in large measure due to how well Claire creates safety. Several of the group were nervous (including me), and I watched all of us grow and increasingly take more risks.
You have to let go of control, follow your body and let your natural impulses emerge. What comes up can be surprising, exciting, and shocking to who we think we are. But the climate of acceptance was such that we worked with it, and no longer being afraid of our bodies and what could come out of our mouths, it deepened our trust in ourselves and therefore each other, and by the end, there was a lovely feeling of togetherness in the group.
I have noticed a huge difference in my teaching work. This came as a result of feeling more confident, that I could trust myself to take risks, and the results have been quite remarkable. I would recommend this kind of group and Claire to anyone.
Robin Shohet, Author of Supervision as Transformation: a passion for learning
Robin inspired me to start the "I don't know what to say" Improvisation Group back in 2010
CURRENT LIVE "I DON'T KNOW WHAT TO SAY" IMPROVISATION COURSE
Dates: 19th Jan – 6th April (Thursday early evening – 12 sessions)
Times: 6-7.30pm
Venue: The Upper Room, 8 Greenland Street, London NW1 0ND
Tube: Camden Town
Cost: £285 (12 sessions which can be paid in instalments) £270 if paid in full in advance
NEXT LIVE "I DON'T KNOW WHAT TO SAY" IMPROVISATION COURSE
Dates:
May 10th – July 26th 2023 (Wednesday evening – 12 sessions)
Times: 7.30-9.30pm
Venue:
Magdalen Centre, Euston, London
Tube:
Euston/Mornington Crescent
Cost: If you are paying for yourself: £335 (12 sessions which can be paid in instalments) or £315 (Early Bird discount if booked before 19th April)
NEW: If your employer is paying for you: £380 or £360 (Early Bird discount if booked before 19th April) or Charities: £335
Or, book a time to speak to me if you have questions or concerns about participating.
See my COVID 19 Safeguards.
---
How to Find the Upper Room:
How to find the Magdalen Centre (next to St Mary's Church)
---
BOOKING
See calendar for planned dates of other courses
There are limited spaces in the course so you are advised to book as soon as possible. You can either book online – see course details above, or book a telephone consultation to explore your suitability for the course.
Book a telephone consultation with Claire
---
I don't know what to say Enquiry
To ask us or tell us about anything else if you're not yet ready to book. We'll be back in touch as soon as possible.
---
If you're a complete beginner, the I Don't Know What to Say Improvisation Group may not be the best place to start.
Check out my other confidence building classes and courses. In particular Breakthrough Confidence Course and my Finding Your Voice Speaking with Confidence Course, Both of these courses are aimed at beginners.
Want to understand more, then see my article on the power of improvisation and its impact on success and confidence.
---
Not sure? It is very natural to have concerns, particularly if you've just discovered this website, haven't yet met me or experienced any other event. See if any of the information below answers your questions?
Your Questions
I'm a complete beginner, will it be suitable for me?
The event is specially designed for people of all levels – and you don't have to have any previous experience. Each session will build on each other, and you will gradually become more familiar with the techniques and process until it becomes second nature. Most people find it a lot easier than they thought they would. This is non-judgmental space and you will be encouraged to participate in your own way and at your own pace. But if you have any concerns please call or email me.
What if I don't get anything out of it?

This is why I offer a 120-day money-back guarantee because I know how effective the group will be for you. If you attend 10 out of the 12 sessions and participate fully in the sessions and you have gained nothing from the experience then I will refund you money in total (less a small admin fee to cover the fees I am charged by the payment gateway).
I usually ask you to wait a full 6 weeks before you make your request as the shifts often take that long to come into place.
I've been to Improv Comedy Classes before – will this be too easy for me?
The Improvisation Group will be a little bit different from an Improv Comedy Class – and less geared towards comedy – and is likely to take you into deeper areas of yourself. You may be surprised too how quickly the other participants get up to speed. Because we are working within the safety of an ongoing group, you will be able to work with issues and areas of your expression that wouldn't be possible in the more performance orientated atmosphere of an Improv Comedy Class
I've been to Comedy Improv Classes and felt very uncomfortable?
I resonate with you. I've been to comedy improv classes which I used to love and felt very exposed and often come away feeling empty. This group will not be like that, which is why I'm charging just a little more than for a normal improv class. I create an informal, friendly atmosphere and the focus is less on performance – and more on exploration – with an opportunity to reflect on your experiences afterwards. So, as a result, you may find the process sh
What sort of people do it?
Most people who come into my groups feel that they are on some kind of a path – of m and personal discovery. There is an open, light-hearted atmosphere in the group the most people find very relaxing and fun. All I can say is that there is a wonderful motivated group of people who are drawn to this work, many who may go on to become close friends.
I'd love to do but I haven't got the money right now?
If you would like to pay instalments, that's fine, scroll above to the online booking page. However, if you do pay by instalments, you will need to pay the full amount even if you drop out of the course.
---
Claim your free gift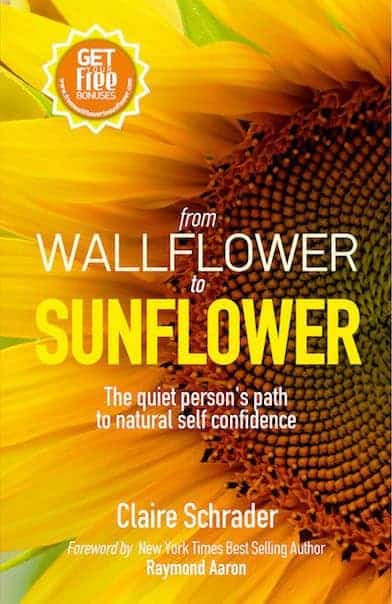 Subscribe to the Making Moves newsletter and receive 3 free chapters from my book: From Wallflower to Sunflower. (£14.99)
In these chapters you'll discover:
Why you're not alone, and why more people are identifying themselves as wallflowers
The biggest mistake that wallflowers make when they're trying to build confidence.
Discover the magic power to break old habits and create new patterns of confident behaviour you've had the whole time – but you didn't know it.
You'll also receive regular free resources, tips and support for your journey to greater confidence, as well as information about my highly effective confidence courses.
Subscribe now to receive your free chapters emailed straight to your inbox, and join a community of people like you, who are ready to change their lives.
You can unsubscribe at any time and I never pass on your details to third parties or spam you. Read my privacy policy and GDPR policy.